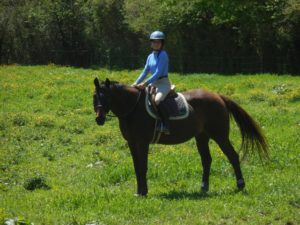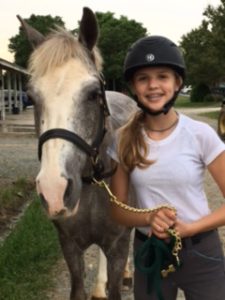 Congrats to Laura Moorehead who is now half leasing Romeo for the next 6 months. He will teach her a lot. Laura has stepped it up to twice weekly lessons and has progressed quickly considering that she only started this past fall.
Sierra Jackson has moved to Griffin, a more competitive mount- as much as she loved Faith, it was time to move on. Faith is ready for a new rider who needs a kind one to learn the ropes. Meanwhile Griffin and Sierra are progressing well.
Dudley got a new rider this month- Suzanne Johnson is an adult who rides in the mornings with Taylor and I believe really enjoys his steadfastness. Just a few days into the lease, they have had some great weather to get further acquainted.
Kate Bollermann has had some rough luck- leasing Toby after retiring her horse Denis was supposed to fill the gap before college. Unfortunately Toby ending up injuring himself as well. She is now full leasing Sophia til the end of the show year… they make a cute pair and we hope that they will do well together.