IEA has been a great addition to Cedarhill Farm and we are looking forward to season #5.  The camaraderie the team aspect has created has been exciting to see.  It gives the young riders role models to look up to and provides the older team members with a sense of leadership.  They have done a phenomenal job maintaining a high level of sportsmanship in some tough situations and we have been amazed at the support system they have created for each other.  We are looking forward to see what this next season brings and what lessons we will learn!!  Below is a general overview of what IEA entails.  Please don't hesitate to contact Caroline with questions at  704-649-5799
Showing Individual –
Each rider can do a max of 5 regular season shows.  $40/class and $65 coaching fee/show
Depending on riders level they will either compete in one flat class or one flat and one over fences.
Goal is to earn 18 points in each class over the course of the regular season.  Points are calculated separately for flat and over fences.
Points: 1st – 7, 2nd – 5, 3rd – 4, 4th – 3, 5th – 2, 6th – 1
Earning 18 points in one or both classes will qualify your rider for regionals.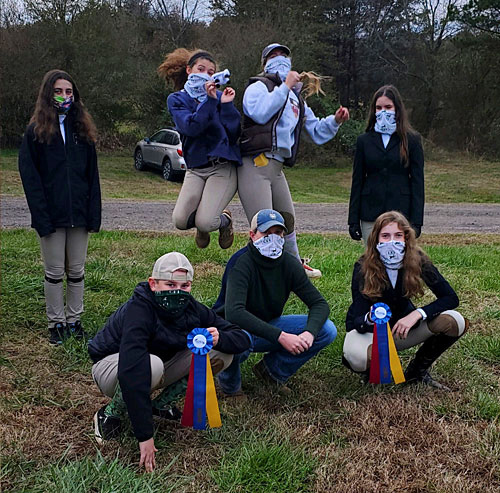 We do not require parents to attend all shows.  Typically a few parents will step up as chaperones/drivers and rotate responsibilities throughout the season.
Showing Team –
At each competition a point rider will be chosen for each class.  Middle School has 5 classes and High School has 7.  The points from these riders will be totaled and used to rank us as a team.  Team points are then awarded in the same manner as individual  (7,5,4,3,2,1)
To qualify for regionals the team must earn 20 points.
We choose point riders based off skill, emotion control, attitude, participation, etc.  It can be different every show.
IF we qualify for post-season events, We will make decisions based on who we feel will best represent the team.
IEA Lessons – $70
We will periodically offer lessons specifically for the IEA team.  It is an opportunity NOT a requirement for the team to get together, ride different horses, and switch mounts throughout the lesson.