Thanks to all the great training of both Taylor and Caroline, our teams are representing us well at our local IEA Shows- with great riding. We are finishing the IEA Regular season with a double header- Queen City IEA and our home show- Cedarhill IEA Show. Our teams, who qualified several months ago, brought home both championships from Queen City on Saturday and at our home show on Sunday a High School Reserve Championship and Middle School Championship .
Congratulations to Both our Middle and High School Teams as well as the following individuals who qualified for IEA Regionals February 10-11. Hopefully from there, they will individually as
well as for the teams, move on to the Zones in March and the Finals.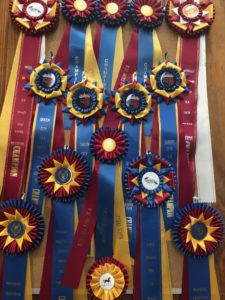 High School-
Coleman Holland – both
Emilie Burton – both
Emily Orrell – both
Haley Rogers – both
Kate Bollermann – fences
Sarah Hattaway – both
Leigh Wardlaw – flat
Meg Birenbaum – flat
Heather Harriss – flat
Middle School-
Bella Brawley – flat
Cate Hernandez – both
Claire Croghan – both
Ava Svatos – both
Brooke Brashear – fences
Gracie Deel – both
Lauren Esposito – flat
Samantha Agisim – both
Ellie Meier – flat
Olivia Joubert – flat
Congrats to our remaining  team members who didn't qualify this year but with lots of hard work, will surely be on the list next year! Although sometimes just the luck of the draw, even having the best draw still means that you know how to execute everything properly for the winning ride. We are proud of our girls who strive to achieve the best with the unknown… truly great character building.
We wish them Great Luck at Regionals!