Cedarhill offers a 31 stall main barn complete with 10 grooming/wash stalls, 2 heated and air conditioned tack rooms, staff offices and a bathroom.
All stalls have automatic water troughs, fans, and a fly spray system. 2 apartments are attached to the barn for our live in staff so you know your horse is cared for 24 hours a day.
The farm has 3 all weather riding arenas (2 with lights)
Covered European horse walker,with Polylast footing
Ample turn out options
General Board:3 meals a day with top quality food (Purina Strategy, Well Solve, Beet Pulp, and whatever supplements required specific to each animal as well as alfalfa and unlimited fescue grass hay), stall cleaning twice a day, turnout, and blanketing in the winter.
We do offer individual care at an additional cost for the clients that are restricted on time. This includes daily grooming and/or bathing as well as any treatment needs. Check out our Day Care post.
Professional blacksmith Matt Hull, provides weekly services and has been shoeing our horses for over 2 years.
We utilize both Palmetto Equine and Stoney HIll Equine to maintain the health of our horses.
Shipping to and from the local and national horse shows is available. Our transportation includes a Freightliner with a six horse Grand-Prix six horse head to head trailer, a Ford 350 Dually with a two horse trailer, and an International truck with a 15 -horse semi-trailer, all equipped with cameras.
Our trainers are experts, taking a team approach to the well being of all of our riders. Communication is key for any equine facility and our social media and  newsletters emailed out periodically keeps all of our boarders abreast to all the happenings around the barn.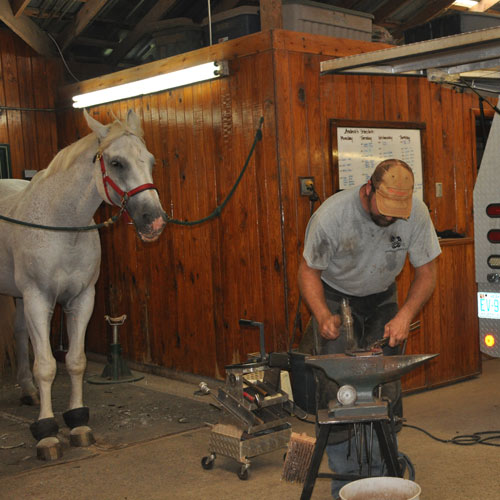 Rates at Cedarhill Farm
Board: $1000
Required Lessons/Training: $280 -to be utilized each month
Full Individual  Day Care Care: $400/month or $30/day – this includes the usage of the Eurosizer Walker.
Lessons: $70
Training Rides: $40
Show Coaching: $65/day
Show Full Day Care: $75/day
Show Half Day Care: $40/day
Trailering: $1.50/mile ($25/minimum)
Commission – 15% for all non- Cedarhill owned leases and purchases.
Hotel, Trainer, and Grooms accommodations to be divided equally among all customers attending horse shows.