Cedarhill Farm offers both group and private instruction focusing on Hunters, Jumpers, and Equitation.  We at Cedarhill feel it is important for all riders to have an understanding of horsemanship.  Our group lessons are 1 hour of saddle time and privates are 30 minutes.  For our beginner riders there is an additional 30 minutes of instruction before and after the lesson for teaching grooming, tacking, and general horse care.  The grooming, tacking, and horse care is ALWAYS the responsibility of the rider but supervision is only provided at the lower levels.
Our group lessons have no more than 4 riders that are of similar skill level.  Riding in a group provides more saddle time as well as the opportunity to learn by example. We feel it is very important to group by level rather than age to allow the best opportunity for progress.  Private lessons are beneficial when needing to work through a trouble spot or for more advanced riders needing to fine-tune their overall ride.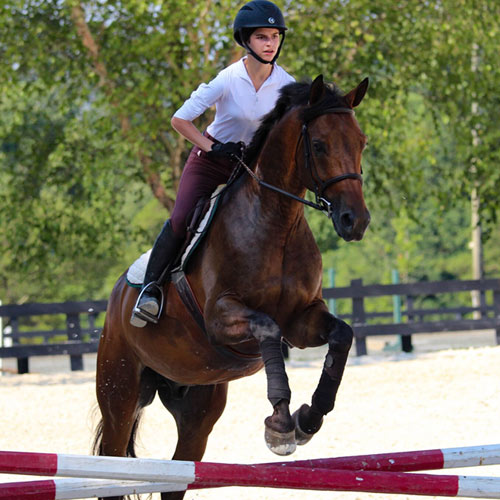 We have over 20 capable school horses and ponies of different levels to ensure our students have a safe and educational ride. Three all weather footing rings, complete with jumps, cavalletti, cones, and other appropriate teaching materials provide the excellent environment necessary for quality instruction.
What you Need:
Cedarhill provides all grooming equipment and tack.  We also have helmets available upon request.  Please wear long pants and a boot with a low heel.   Please bring your registration and release form to first lesson.
Please allow two hours for your child to fully enjoy his or her lesson — 30  minutes to catch and tack the horse, one hour in the saddle and another 30 minutes for un-tacking, grooming, putting away  equipment and returning their horses to the paddock or stall).
Session Lessons: 
A session is 1 month.  Session riders have priority scheduling.  You commit to same day and time and prepay by the 1st for a discounted rate of $70/lesson.  There are no makeups or rescheduling.  If you wish to change days, time, or discontinue please inform your instructor and Brian (bookkeeper) through email.  . His email address is Brian@Cedarhillfarminc.com  We have a late charge of $25. for lesson payments paid after the 1st, and a $60 late charge for lessons paid after the 10th
A la Carte Lessons:
If you do not want to commit to same day and time or would like the option of rescheduling you can pay the non-discounted rate of $85.  Please note that we cannot guarantee availability as our session riders take preference.
Private Lessons:
Private lessons are $95.  Limited availability and recommended for beginners just starting out, advanced riders, or riders needing to address a specific issue.
 Bad Weather:
On the rare occasions we do not ride due to inclement weather Cedarhill instructors take the opportunity to focus on horsemanship.  How to treat injuries, wrap legs, why we use different equipment on different horses, course design, etc.  There is much more to horses than just riding.  Our goal is to provide your child with a well rounded equestrian education.
If there is severe weather or ice we will call and cancel.  Please do not assume.
Summer Riding Sign Up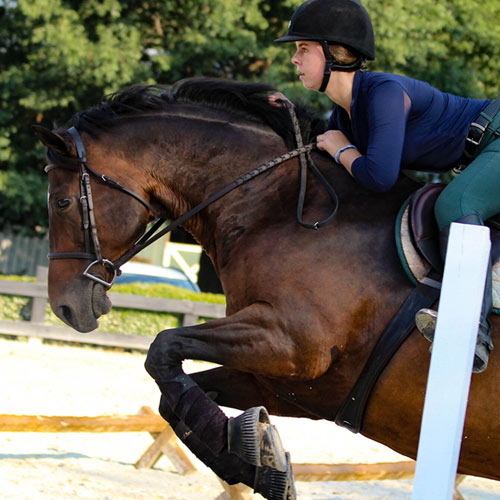 • During our summer months of June, July, and August most of our families have a very irregular riding schedule compared to the fall (school) schedule. Sign up and pre-pay for a minimum of 4 lessons in any of the summer months to take advantage of the session rate discount. A la cart lessons, which are 3 lessons or less per month are $85. per lesson. Please call or stop in to sign up for Summer Lessons. Full payment of  summer lessons required at sign up. The Summer Sign Up book will be available on May 1st.
Fall Riding Registration
• We start our fall registration July 1st. During that time all returning students as well as new riders to Cedarhill Farm fill out a new registration form with their current contact information as well as a new Medical form and Liability release form. Cedarhill requires a $25. yearly registration fee for all new and returning students.
• By the first week in August we send out a tentative schedule by e mail, and around August 15th we send out a final schedule.
•If you miss these deadlines, don't worry! Taylor is always starting new beginner groups, contact her to get signed up!
Cedarhill's Holiday Breaks:
Brian will not be billing lessons during the following Holiday Breaks. Your instructor might offer Holiday Lessons at special times which will be billed afterwards. Ask them for more information!
• Memorial Day- Friday – Monday
• Easter- Friday -Monday
• Labor Day- Friday -Monday
• Halloween Day
• Thanksgiving- Wednesday, Thursday, Friday, Saturday
• Christmas- 12/24-1/1
Fall 2017- 18 Lesson Schedule
Lesson Agreement
Our commitment to you:
• To provide a fun and safe riding experience for your rider.
• To give excellent instruction on the fundamentals of good horsemanship.
Your Commitment to us:
• Arrive in time for the start of your assigned lesson.
• Notify us by phone if you are running late for a lesson by calling one of the following numbers:
Cedarhill Farm                              704-843-5944
Caroline Foto                                 704-649-5799
Andrea Guzinski                           704-965-8798
Taylor Yeaton                                 704-301-7120
Colleen Huber                               704-589-1088
Calling or Texting your instructor is the best way to convey a message.
•Please notify us if you are unable to make your scheduled lesson.
Lesson Rates
Private lessons: $95/half hour instruction.
Semi Private lessons: $95/one hour instruction.
A-la-cart Group lessons:$85/ one hour instruction.
Session Group lessons: $70/ one hour instruction.
Registration: Please download the PDF file below  to be filled out and given back to us to get enrolled in Cedarhill Farm's lesson schedule. We require a $25. registration fee for all new and returning students which should be included.
Cedarhill Farm Inc
2620 Waxhaw Marvin Rd
Waxhaw, NC 28173
Cedarhill Registration & Release/Hold Harmless Form 2017-2018
 Cedarhill 2017-18 Release and Hold Harmless Agreement needs to be signed by all who ride at Cedarhill  (evaluation lessons riders may fill only the bottom until they want to register, then they also need to fill out the top)